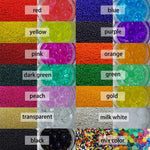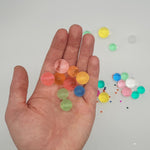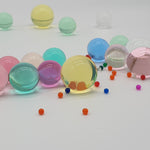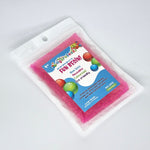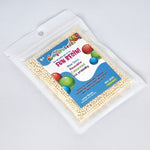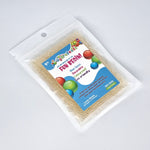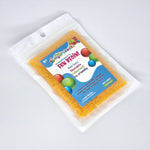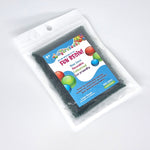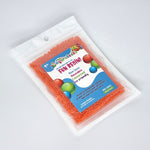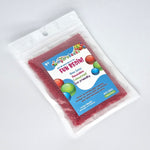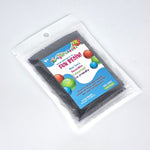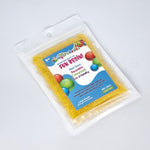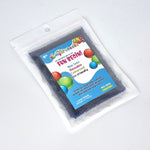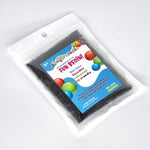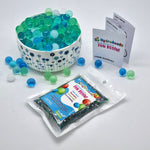 Safe Payment
Pay with your card via Shopify Payments or PayPal. Our website is SSL encrypted for your security.

Easy returns
No questions asked and 14 days to send your order back for a full refund.

Fast NZ Delivery
We ship daily (Monday to Friday). Order before 3pm and we will ship the same day!

Need Help?
Contact us and we will usually reply within 1 hour (11am to 9pm). We're online 7 days a week!
Product Details
Our pack of LARGE (15mm diameter) water beads are the biggest size we stock and suited for many of the same applications as our regular water beads, except that they're bigger! Simply put them into water for 4 - 6 hours and they'll grow to around 15mm (between 12mm and 16mm with most being between 14 and 15mm in diameter)
MAIN FEATURES:
Made from polymer gel powder which is non-toxic and eco-friendly
Bio-degradable over time and non-flammable too
Completely reusable by adding more water once they dry out
Beads grow to approx. 15mm in size
Approx. 2500 beads per 85g pack
Suitable for ages 4+
Also known as water crystals, water balls, gel balls, crystal balls, magic beads, hydrogel, water marbles and Orbeez®
COLOURS AVAILABLE:
Mixed Colours
Red
Blue
Yellow
Purple
Pink
Orange
Dark Green
Green
Gold
Transparent
White
AWESOME WATER BEAD IDEAS:
*Our larger water beads are best suited for decorative purposes as they are more susceptible to breaking.
Household decorations - put them in flower vases or vases.

Wedding and event decorations - our range of colours make it easy and cheap to colour match your event theme.

Great for DIY crafts - scent diffusers, stress balls and even ice packs.

Playtime - use them as a way of getting the kids to play outside! (we do recommend our regular sized beads for this purpose though, as they are a bit more durable).
Pack of 2500 LARGE Water Beads (12 Colours Available)
Thank you!
Very impressive service. Quick response and delivery. They even added extra to the order.
Would definitely buy from again.
Love this multi use product
Fantastic product 😁 …… have grown a rainbow rose and lots of sensory stimulation and action packed games. Highly recommend 👍
Houses
Had a great time building houses with the beads in corporate colours!! Looking forward to Christmas decorations using the beads in lots of lovely vases!!
Cannot seem to upload photo, I have emailed them separately, very keen to get them posted as they look amazing and another idea for usage.
Fun on the tramp
We love putting our water beads on the tramp
Absolute Magic!
The colours are amazing and these water beads were just perfect for what I needed them for.
Large water crystals
Do what they say on the tin - after a few hours in water, the tiny beads swell to ~10mm in diameter. Size is somewhat variable, a few were around 6mm and some up to 15mm.
Water beads
Fabulous product and would definitely buy again especially at such a great price