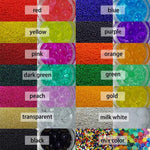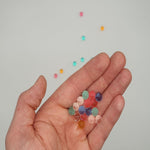 Safe Payment
Pay with your card via Shopify Payments or PayPal. Our website is SSL encrypted for your security.

Easy returns
No questions asked and 14 days to send your order back for a full refund.

Fast NZ Delivery
We ship daily (Monday to Friday). Order before 3pm and we will ship the same day!

Need Help?
Contact us and we will usually reply within 1 hour (11am to 9pm). We're online 7 days a week!
Product Details
Our SMALL size water beads are the smallest size we stock and they grow to 7mm in diameter. Just like our other sizes, you only need to add them to water and wait for them to grow! However, unlike the regular and large sizes, we recommend our small size for use with water bead (aka water gel) blasters. You could use them as decorations or for playtime, but our regular and large sizes would be better for those purposes.
Main Features:
Made from polymer gel powder which is non-toxic and eco-friendly
Bio-degradable over time and non-flammable too
Completely reusable by adding more water once they dry out
Beads grow to approx. 7mm in size
The SMALL size is the firmest and won't easily break apart.

Approx. 10,000 beads per 85g pack
Suitable for ages 4+
Also known as water crystals, water balls, gel balls, crystal balls, magic beads, hydrogel, water marbles and Orbeez®
Colours Available:
Mixed Colours
Blue
Green
Orange
Red
Transparent
Black
How to Grow Your Water Beads:
Simply place the beads into a container of water for 4 - 6 hours. Remember that you've got around 10,000 in a packet, and they grow to many times their original size so don't put too many in at once! We recommend you use distilled water for best results, but tap water should work fine too.
Check out our blog post for more in-depth info on water beads and how to grow them: https://waterbeads.co.nz/blogs/news/what-are-water-beads

Awesome Water Bead Ideas:
Please note: Our SMALL size is primarily intended for use with water gel blasters (toy guns which fire water beads). These blasters generally use the 7mm size, but some may use the larger 11mm size so please make sure you choose correctly!
Some other water bead ideas are listed below, but these ideas would work better with the regular or large size beads:
Playtime! In the garden or the bath, these balls provide hours of fun.
As a sensory tool for young children and persons with learning disabilities.
Household decorations in flower vases and candle holders.
Wedding and event decorations - perfect for colour matching a theme.
For retaining moisture in the garden or your indoor potted plants.
As aromatic diffusers, simply add your scent and you're good to go!
What Are Water Gel Blasters?
Gel blasters, also known as gel guns, gel shooters, gel markers, hydro markers or gelsoft, are toy guns similar in design to airsoft guns, except that they shoot superabsorbent polymer water beads as projectiles. Gel blasters are great fun and safer than paintball (but still remember to wear eye protection). At some point, we hope to retail them through our sister site - deals4less.co.nz. Until then, if you're interested in ordering then there are a few NZ based retailers.
Pack of 10000 SMALL Water Beads (7 Colours Available)
Awesome clean fun
My son loves waterbeads! Clean sensory fun. Love that you can choose individual colours
Amazing Balls!!!!
Read the instructions!! Ha Ha. I was overzealous and found myself with so many balls it was crazy! They are huge, huge fun and they are amazing!! Look beautiful in my fountain in the garden as well as in a glass bowl in the bathroom. Lovely!!
Waterbead purchase
Absolutely wonderful service. I will definitely shop again and have already recommended to others 👍
Fantastic Sensory Resource!
Exceptional
Great local store with exceptional customer service. I unexpectedly had delivery within a few hours of purchase. Product perfect. Thank you!
Exactly what I ordered
They work great, haven't used them for the intended project but did test them out. Great product
Water beads small
Fast shipping and was great for the centrepiece decor.
Water beads
You guys are excellent in your job. Item was exactly to my expectation. Perfect! Urgently required & received them quicker than I expected. Amazing! Will highly recommend.
Excellent service
quick post and item exactly what I needed
Water beads
Have tried numerous types of water beads and these are by far the best